Endgames : Persistence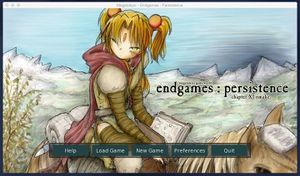 The Endgames : Persistence Kinetic Visual Novel is an omake set within the Endgames MMORPG, bridging between chapter 11 and chapter 12 of the story. It is a short kinetic visual novel (a visual novel with only one path) in five parts. The first part was made publically available on June 4, 2015. Alternative titles include Endgames : Persistence Megatokyo Endgames : Persistence Kinetic Visual Novel between-chapters Omake (according to the first Facebook post) or endgames : persistence chapter XI omake (according to the title screen).[1]
It was created using the Ren'Py visual novel engine, just like the Megatokyo visual novel in development as of June 2015. The downloadable version should work on Windows, Linux and MacOS X.
Links
References