Sayuri
Jump to navigation
Jump to search

Ryouya Sayuri (料屋 さゆり)[1] is the character designer of the computer game Sight. She has something of a soft spot for Kimiko, and a strong sense of who she believes Kotone to be. From time-to-time, she acts as Kimiko's mentor and confidant. She also knows Kenji, Miho's DJ and coworker at the Cave of Evil. At the moment, she is doing everything she can to save the "Sight" project from extinction.
She might be named after Kurata Sayuri, a character from the ren'ai game and anime Kanon. Fred's own nickname Piro is based on a cat from the same anime.
She also wrote a second-season episode of Girl Phase, which turned out to be Miho's favorite one.
Secret Identity: Kumakuma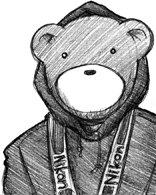 Kumakuma is Sayuri's pseudonym (revealed in Strip 1083). In this guise, she has been secretly sending pictures to the otaku through the Internet and blogging events during the "Sight" project (see e.g. Strip 656). She knows all about Kimiko's star potential.
Relationships With Other Characters
Notes