Megatokyo 1
Jump to navigation
Jump to search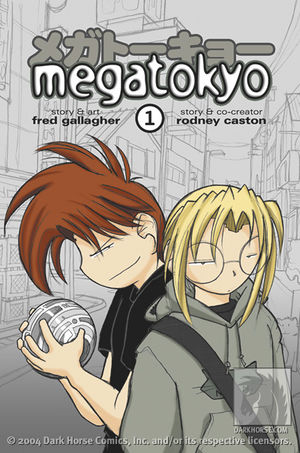 Megatokyo 1 is the title of the book including all strips from Chapter 0. It was published by Dark Horse Comics in March 2004.
There is also a German version published in October 2004 by Eidalon, a Polish version by Mandragora in July 2004, and an Italian version by Free Books in September 2005. After a preview in the issue #7 of the Faust magazine in 2008[1], a Japanese edition in the Kodansha Box publishing line was released in May 2009[2]. A French edition was also planned.
Megatokyo: Chapter Zero, a book previously published and containing the same chapter, is no longer available.
Contents
18 pages of material from Fred's sketchbook, including early concept drawings of Megatokyo characters
Creator commentary on most strips and many drawings
Publishing information
French version (planned)
ISBN 2-226158-17-0
no further information as of July 2005
German version
Publisher: Eidalon (Stefan Heitzmann)
Publish Date: October 2004
ISBN 3-936686-81-5
Price: €6.90
Translation: [Lemmy], Stefan, DarkSpir, Akito, Denmaru
Italian version
Publisher: Free Books
Publish Date: September 2005
ISBN 88-89206-65-9
Price: €5.90
160 pages
Japanese version
Publisher: Kodansha
Publish Date: May 7, 2009
ISBN 978-4-06-283660-9
Price: ¥1100
166 pages
The japanese edition contains only one Shirt Guy Dom strip; there are 13 pages filled with translation notes at the end of the book instead.
Polish version
Publisher: Mandragora
Publish Date: July 2004
ISBN 83-89698-02-1
Price: zł18.00
References
External links