Megatokyo Omnibus Volume 1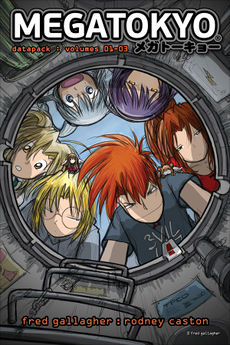 The Megatokyo Omnibus Volume 1 (also Megatokyo Omnibus 1; subtitled datapack : volumes 01-03) is a collected editon of the contents previously contained in Megatokyo 1, Megatokyo 2 and Megatokyo 3 by Dark Horse Comics. It was originally set to be published in April 2012 under the title Megatokyo Omnibus Volumes 1-3, but this had to be pushed back. It was finally published on April 9, 2014.[1]
Apart from the extras published in the original three volumes, it also contains t3h b34ch, a "beach episode" special created specifically for this book.
The full cover art is available on deviantART.
Contents
Publishing information[1]
Creators: Fred Gallagher (Rodney Caston is credited on the cover)
Publisher: Dark Horse Books, a division of Dark Horse Comics
Publication Date: April 9, 2014
ISBN 1-59582-823-0
ISBN-13 978-1-59582-823-1
Suggested Retail Price: $19.99 US, $21.99 CAN
Paperback
576 pages
References